Simply put, the perfect color pairings can transform an ordinary home exterior into a livable work of art! When the shades of paint and exterior materials blend and contrast to perfection, each color works together to draw the eye from the street perspective and create an engaging visual. Even better, stone veneer options are easy to install and create the eye-catching texture you desire. You can use the neutral stone color palette to add additional tones and color variations. Here are a few of our favorite ideas for common house colors that go with Horizon Stone veneer options and easy to install.
Complimentary Greys Home Exteriors– It's no secret in interior design and fashion that gray goes with everything! In fact, you can even mix multiple different gray tones for an attractive effect that's easy to create. Since gray is the most common stone color, use it to your advantage. We love the way the light grey 19th Century Series Stone in color Hermitage (below) contrasts the darker front door, medium gray shingles, and lighter gray shutters: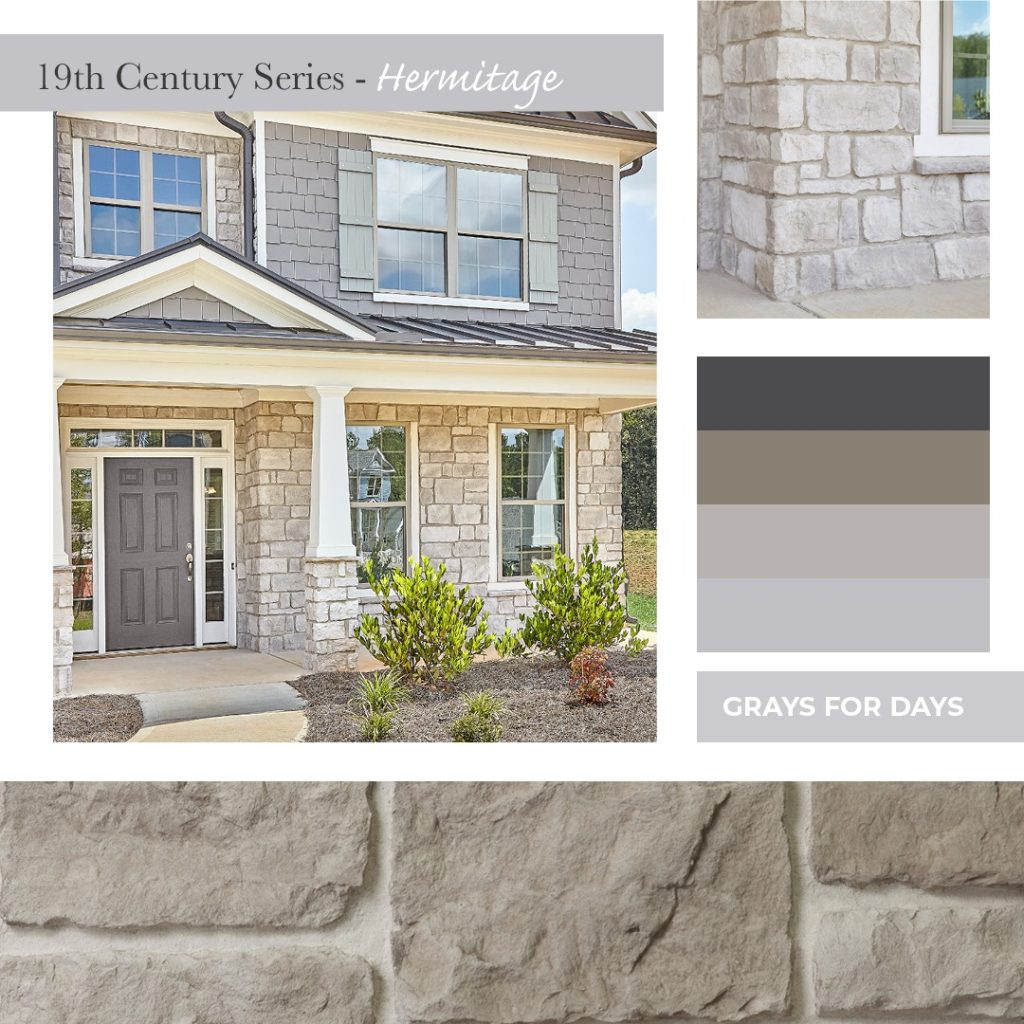 White & Bright Home Exteriors– When it comes to white and other bright home exterior colors, a light to medium gray stone veneer will provide an appropriate color contrast that prevents the visual from feeling washed out. Whereas bright paint colors can minimize the visibility of lines within a material section, an option like Ledgestone Series Stone in color Hermitage (below) also provides fascinating texture and shapes for interest: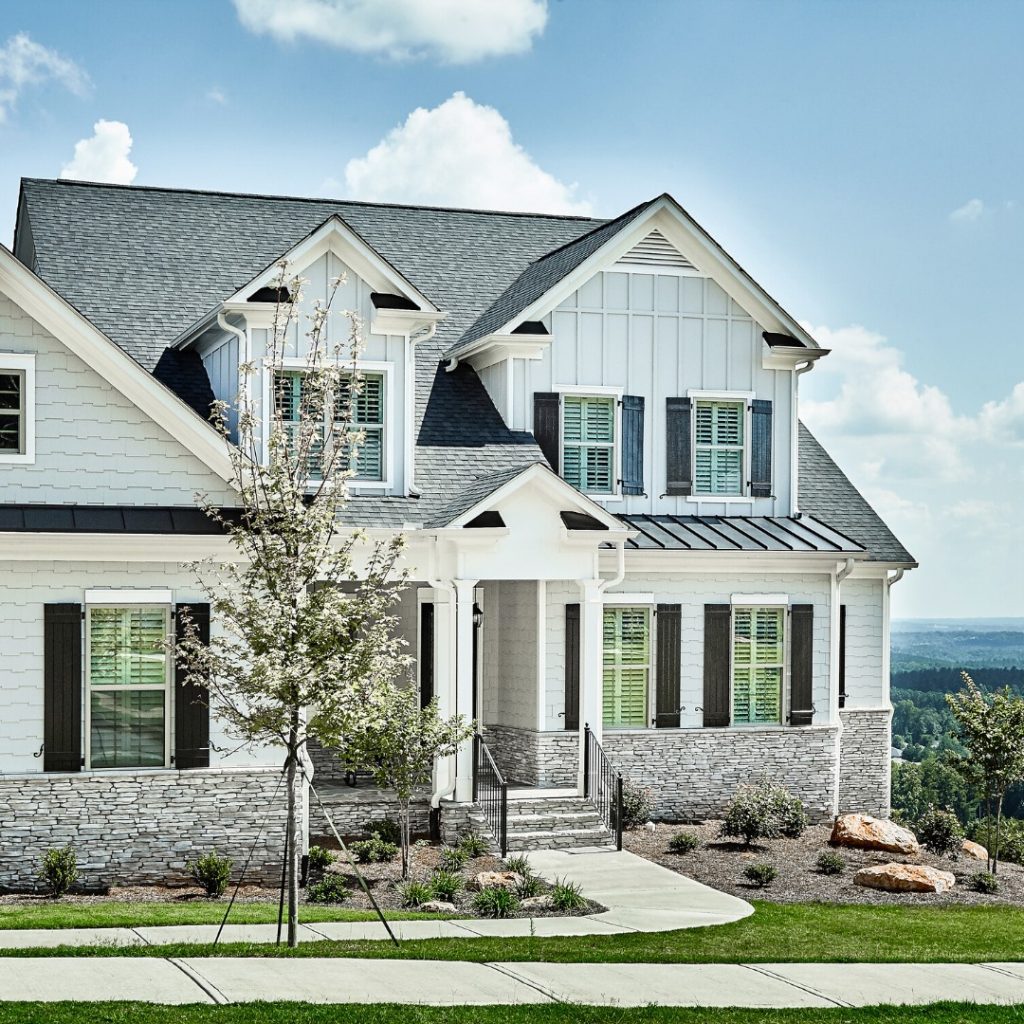 Cool Blues Home Exterior– Many gray stone veneer options feature blue undertones that are pulled out even more when paired with neutral blue shades. Just like with a gray color palette, different cool blue tones pair naturally with one another for easy to create contrast. This dreamy exterior combination of 19th Century Series Stone in color Harbor Bluff (below) with stormy sky blue paint and navy shutters is as inviting as it is soothing: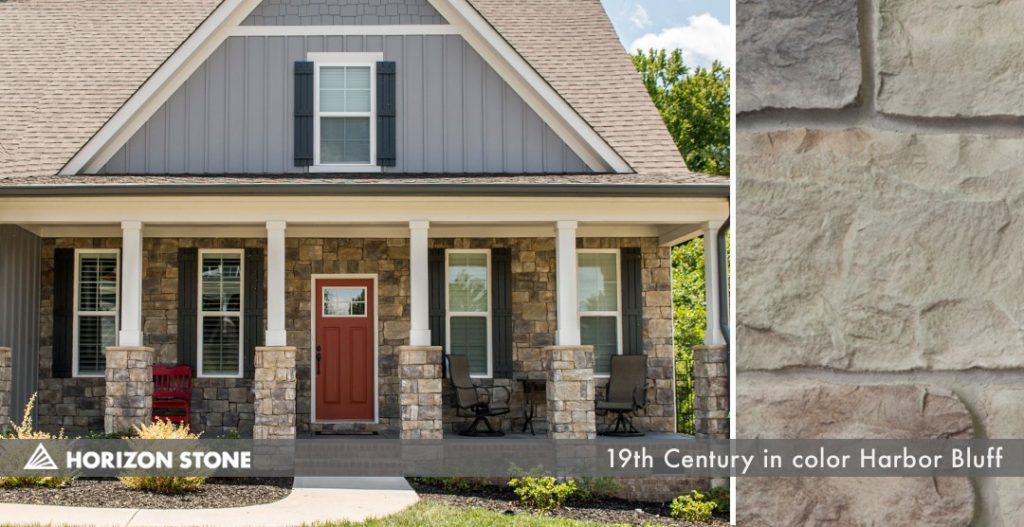 Classic Red Home Exterior – Whether a home features classic red brick or brick-toned paint, stone can provide an ideal neutral foundation to balance the red hue. Stone veneer with red undertones will unify the brick and a mortared variety adds another unifying element. This striking estate features 19th Century Series Stone in color Bluegrass (below) for a serene combination of brick and stone that's extremely easy on the eyes: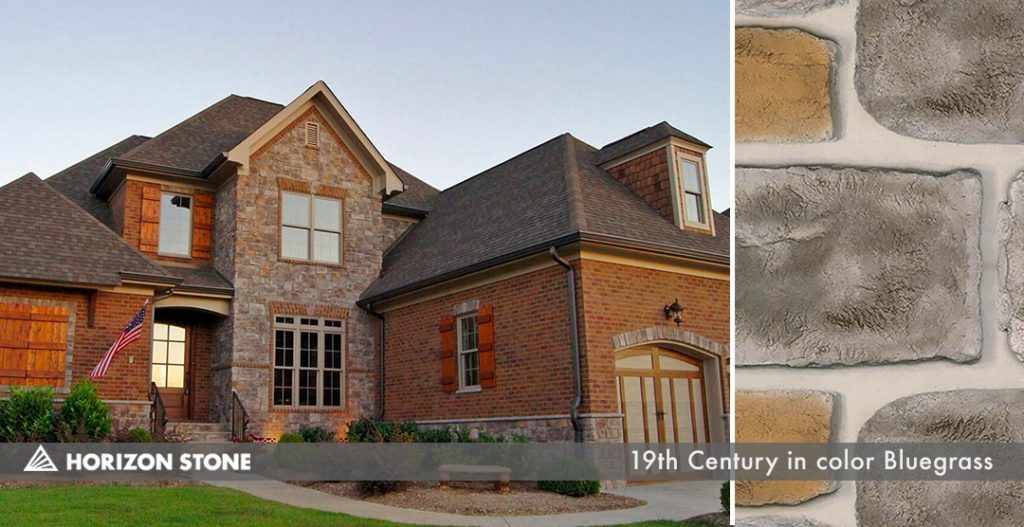 Earthy Tones – For an utterly relaxing home exterior full of organic beauty, pairing stone veneer with an earthy color palette provides an undeniably natural vibe. Explore stone veneer options that feature a mix of browns, tan, and beige that will pair with a wide range of earthy paint and material color choices. Handcrafted Series Stone in color Hickory (below) provides multiple earth shades that make matching house colors exceptionally easy: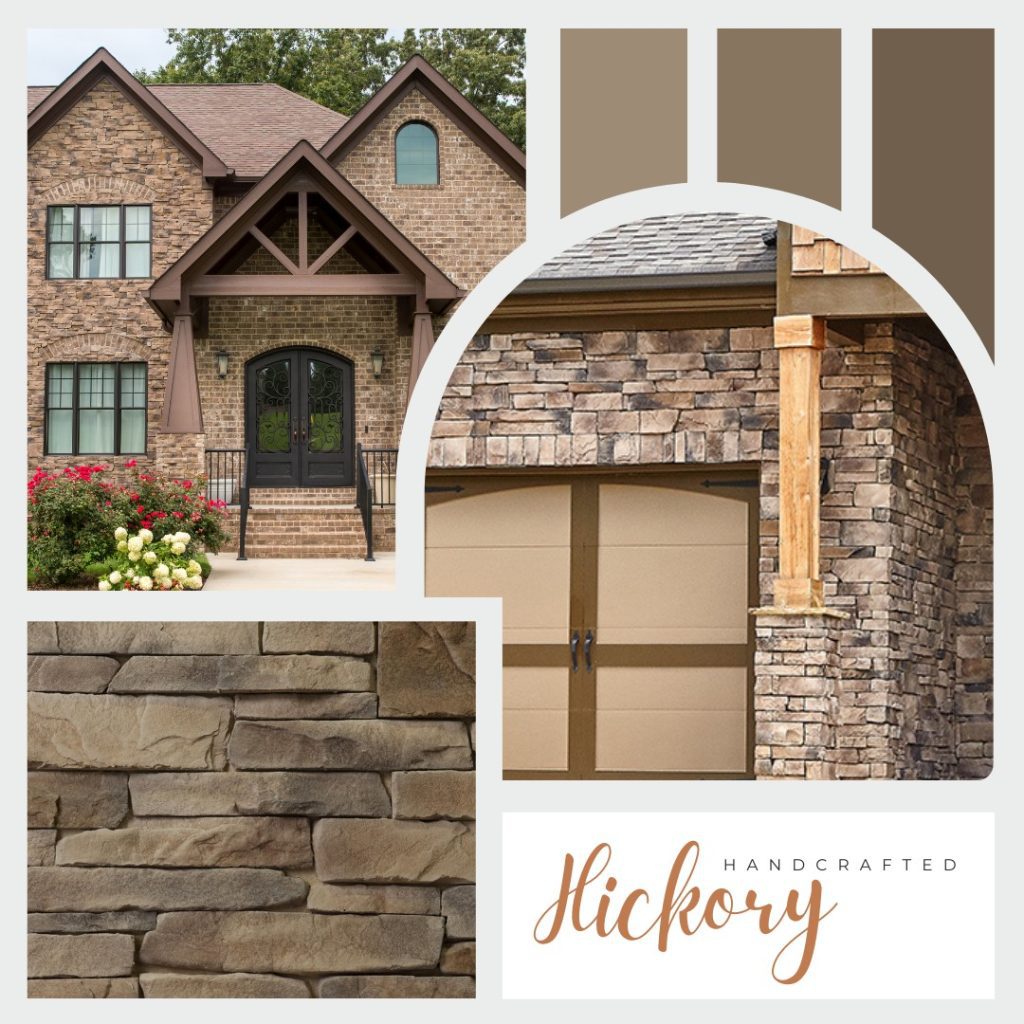 Which stone veneer style would you pair with your house color to elevate the overall exterior? Our Horizon Stone distributors are ready to help bring your favorite combination to life! Find your local retailer and use a complimentary stone veneer pairing to create incredible curb appeal.