With Horizon Stone veneer, homeowners, builders, and designers can easily transform an ordinary living room or family room fireplace into a dramatic nature-inspired focal point. Providing visual interest, dimension, and effortless warmth, a stone veneer outdoor fireplace is also the perfect way to balance the cold air when the temperatures drop. Whether you want to elevate your indoor or exterior spaces, a show-stopping stone fireplace will offer an inviting roaring flame that keeps the conversations going and the ideal setting for making memories with loved ones.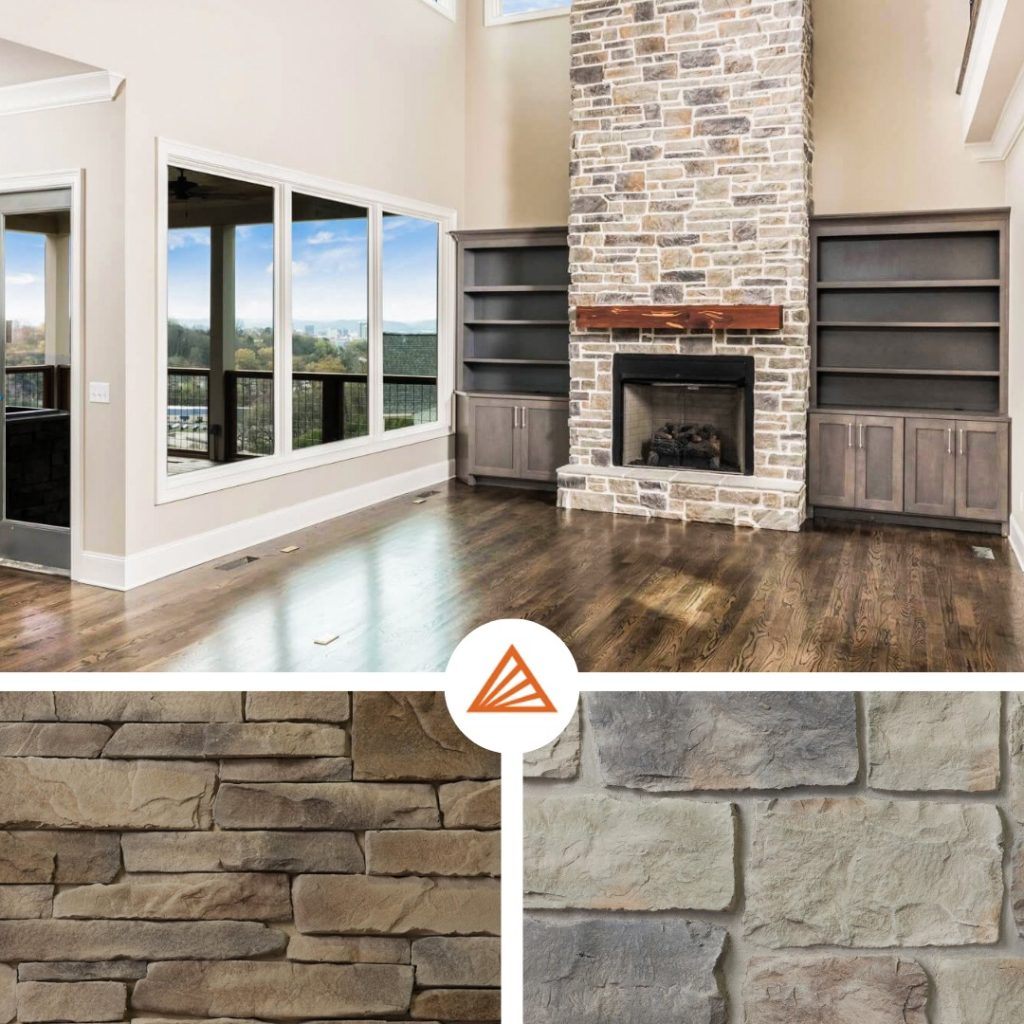 Choosing Stone Veneer for Fireplaces
It's no secret that a natural stone fireplace lends timeless, organic luxury to an unforgettable layout. However, different stone sizes and shapes can enhance the aesthetic of your home and its fashion-forward appeal. As you explore different types of stone fireplaces for your home, consider these stone veneer design principles and stone fireplace ideas:
Stacked stone veneer means that the stones are tight and flush, with one on top of the other or dry-stacked. A dry, stacked stone fireplace will provide the visual of mortarless stone with staggered layers and a rough-cut natural appearance. The irregular, aged look of stacked stone with a variety of sizes and shapes produces incredible authenticity.
Ledgestone stone veneer provides a visual of rectangular stripes of stone arranged uniformly. With stunning visual texture, ledgestone fireplaces create an eye-catching design feature for a common room centerpiece. The sharper angles and edges of ledgestone or cut stone will complete a modern or contemporary layout to perfection.
Stone veneer options that feature larger chopped, mosaic, or field stone will be an excellent fit for a traditional or rustic fireplace. If the other materials and surfaces within a space are more uniform, a multi-shaped stone veneer will make your fireplace stand out in a balanced manner.
In addition to dry-stacked stone veneer varieties, mortared stone veneer features an extra visual component that highlights each shape, adds appropriate contrast, and lends even more genuine craftsmanship and stone allure.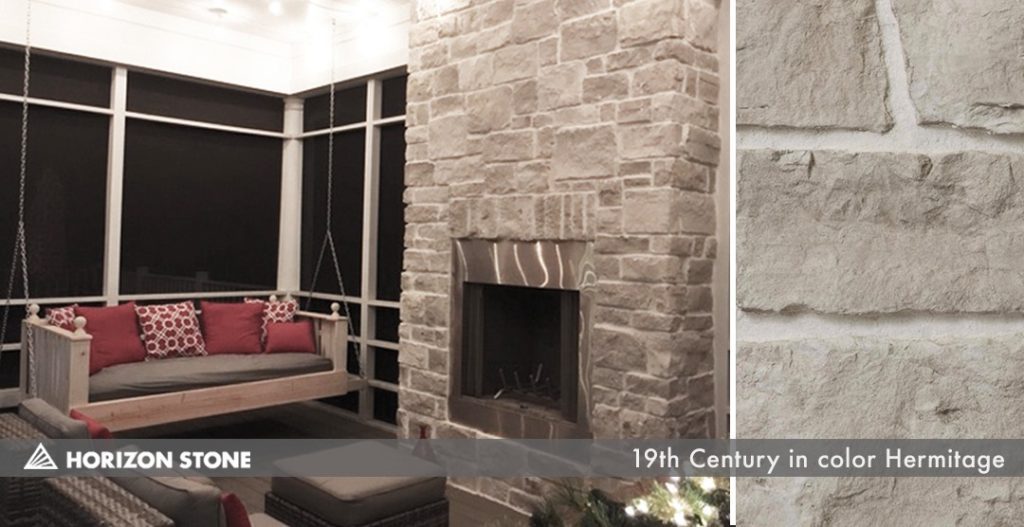 Stone Fireplace Accessories
After you create the stone fireplace that you love, enhance your design with mantel shelves, brackets, and keystones for added character and personalization. By using easy-to-install stone fireplace accessories, you can enhance the intimacy of your fireplace and create extra space for your favorite décor:
Horizon Stone mantel shelves come in two sizes and six colors for exceptional customization capability. The chiseled edges and ample depth provide a solid foundation for your keepsakes.
Eight different Horizon Stone hearthstone shades allow you to complete your fireplace with organic tones that fit your home's design scheme seamlessly.
Stone Fireplace Installation & Care
Although the classic look and artisan appeal of stone veneer appears expensive and time-consuming to create, Horizon Stone products are engineered for quick installation with flawless results. For many homeowners, a stone fireplace remodel represents a realistic DIY project with easy installation considerations. Use Horizon Stone Technical Resources such as Installation Basics, Complete Installation Guide, and Accessory CAD Drawings to successfully complete your project like a pro! Installing a stone veneer fireplace will displace busy rooms in an active home for less time and get homes market-ready quicker.
In addition to easy installation, Horizon Stone fireplaces are easy to care for, suitable for all types of weather conditions, and do not require regular cleaning to remain pristine. When cleaning a stone veneer fireplace, simply use mild, hot soapy water and a clean cloth, sponge, or soft brush to wipe down the stone. Use a clean cloth or sponge to rinse and wipe the stone veneer, let the fireplace dry, and your work is done!
*Make sure to order Horizon Stone samples from our website and we will ship them straight to your home for confident decision-making when designing a stone fireplace!