A quick dive into the Stone Inspiration Gallery from Horizon Stone that highlights the eye-catching warmth, character, and beauty of natural stone visuals and all the equally intriguing ways they can be used for an estate. However, versatile stone veneer products are actually created from a cement mixture that is poured into molds and colored to look like authentic stone. Natural stone is controlled by nature, quarried, cut into various shapes, and then must be installed by skilled professionals, making it less convenient to both purchase and utilize in today's fast-paced building industry.
Thankfully, the innovation of stone veneer allows builders and homeowners to capture this gorgeous look much more easily for all types of residential properties. Whether you are completing a new build or a design refresh, here are our top five reasons to use stone veneer for your home:
1. Stone Improves Curb Appeal
From columns and steps to walkways, mailboxes, patios, gables, arched entryways, and more, you can use Horizon Stone veneer to instantly upgrade your property's curb appeal. Stone veneer can be used to create a gorgeous home exterior, but some home exteriors such as those made from brick don't always lend themselves to material updates. 
Thankfully stone veneer pairs seamlessly with brick and can be easily used for contrast borders, stone skirt, and column bases to add visual interest and give a timeless brick exterior a few modern touches. In this charming exterior (right), the stone skirt created with Handcrafted series stone in color Hermitage effortlessly updates the classic brick home and helps catch the eye from the street perspective!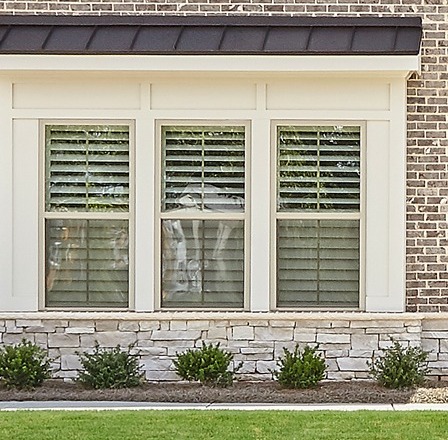 2. Stone Veneer is Easy to Install & Maintain
Whether you are using stone veneer in an exterior or interior setting, you will love the fact that these old-world, artisanal visuals do not require weeks of labor or difficult tasks like mortaring and setting the stone. These products are engineered for quick installation and successful results, and we even provide the helpful, easy-to-follow Technical Resources for DIY installations. Also, the efficient installation of stone veneer will create minimal room displacement. Once installed, stone veneer is suitable for all weather conditions, does not require regular cleaning, and calls for only mild, warm soapy water, a clean cloth, sponge, or soft brush to wipe, and a low-pressure hose to rinse. Stone veneer makes life easy, and we love easy.
3. Customization Capability with Stone
With a wide range of dreamy neutral tones, stone shapes, sizes, and varieties to design with, Horizon Stone veneer options allow you to craft truly one-of-a-kind spaces. Since grey is the most common stone color, almost all stone veneer visuals will feature grey undertones and fall into an organic, neutral color palette. As a general design principle, neutrals pair with other neutrals so you instantly have an excellent selection of complementary paint and material colors to use with stone veneer. You can also explore using multiple stone veneer styles in your design, and whether a dry stacked or mortared stone look will serve your vision the best. Stone veneer provides exceptional design customization capability!

4. Efficient Renovations
The housing market has experienced incredible activity over the past few years, and homeowners and builders are looking for the quickest ways to complete renovations and get properties ready to list on the market. The warmth and character of stone veneer is perfect for quickly turning around updated fireplaces, mantles, accent walls, built-in shelves, showers, kitchen islands, backsplashes, wine cellars, and more. In addition to adding more value to your property than vinyl, stucco, or clapboard, stone veneer lends a more modern feel yet remains timeless to appeal to a wider range of buyers down the line.
5. Affordable Luxury for Your Home
When you walk into a pool area or outdoor fireplace seating area created with stone veneer, you feel like you are at a resort. Simply put, stone veneer creates the luxurious look and feel of real stone at a much more affordable price point. Everyone can appreciate a design that seems more expensive!
Thanks to custom manufacturing, affordable stone veneer continues to grow in popularity as a material choice. This poolside retreat created with 19th Century series stone in color Hermitage (below) transforms an ordinary backyard into a personal oasis with upscale allure: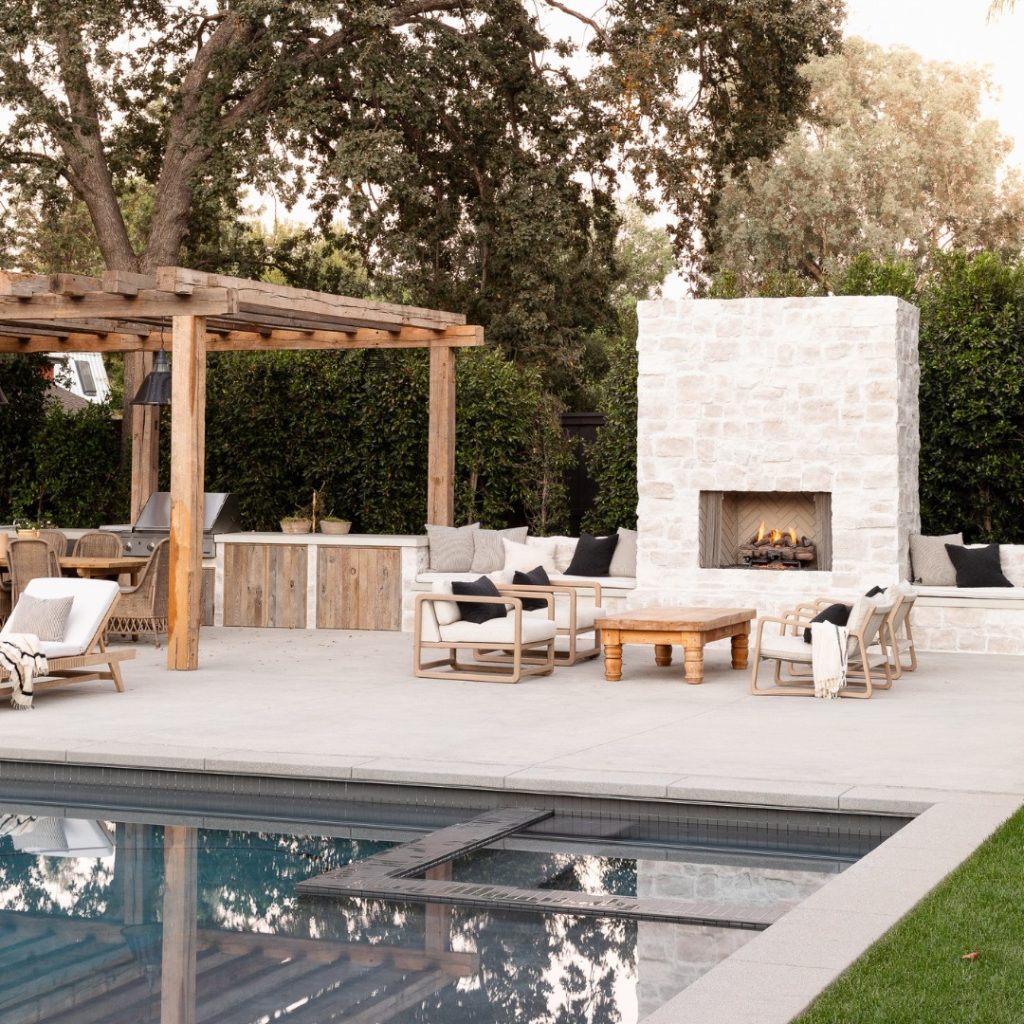 Our Horizon Stone Pinterest pages have more incredible examples of just how transformative stone veneer can be for your favorite spaces. Locate your nearest Horizon Stone distributor and work with an expert to bring your ideas to life!