When it comes to creating a home exterior with organic luxury and effortless, elevated curb appeal, the visual combination of stone veneer and timeless brick will always deliver outstanding results. With no shortage of visual interest from striking colors, textures, and shapes, both materials also bring impressive durability and a sense of reassurance that resonates with homebuyers across generations. The wide-ranging looks of the full Horizon Stone Veneer line offer even more enhanced creativity and design capability when designing with brick. For utterly gorgeous results, here are a few valuable guidelines for how to choose brick and stone for your home:
How to Pair Stone Veneer and Brick Tones
Since both brick and stone veneer feature soothing shades within an earthy neutral color palette, you can easily find many winning pairings. As a general rule, create appropriate contrast and use a unifying accent color, fleck, or undertone to complement the overall exterior. For instance, a brown brick will pair seamlessly with a mixed stone variety that features a brown shade, even if the brown shade doesn't match the brick exactly. Neutrals inherently match within a color wheel, so you will find many pairings that complement each other well. Also, always let the amount of natural light your home receives help guide your color combinations!
How to Balance Stone Veneer and Brick Visuals 
In addition to brick and stone styles that offer uniform shape and color, many options present high natural color variation and multiple shades, as well as stone veneer options that highlight multiple different stone sizes and shapes. With this in mind, it's always wise to try balancing brick and stone veneer by achieving contrast while keeping patterns simple. If you select one material that features a high level of random variation, we often recommend keeping the other material simplified and more toned-down. For example, this charming exterior uses a more traditional red brick with dashes of navy brick and a standout cream mortar. To balance the brick, the Handcrafted Series Stone in Cumberland (below) offers a smooth grey visual with pops of orange and darker tones. The lighter colors, varied stone sizes, and dry-stacked visual contrast the brick perfectly, while the darker stones and darker brick help pull the look together: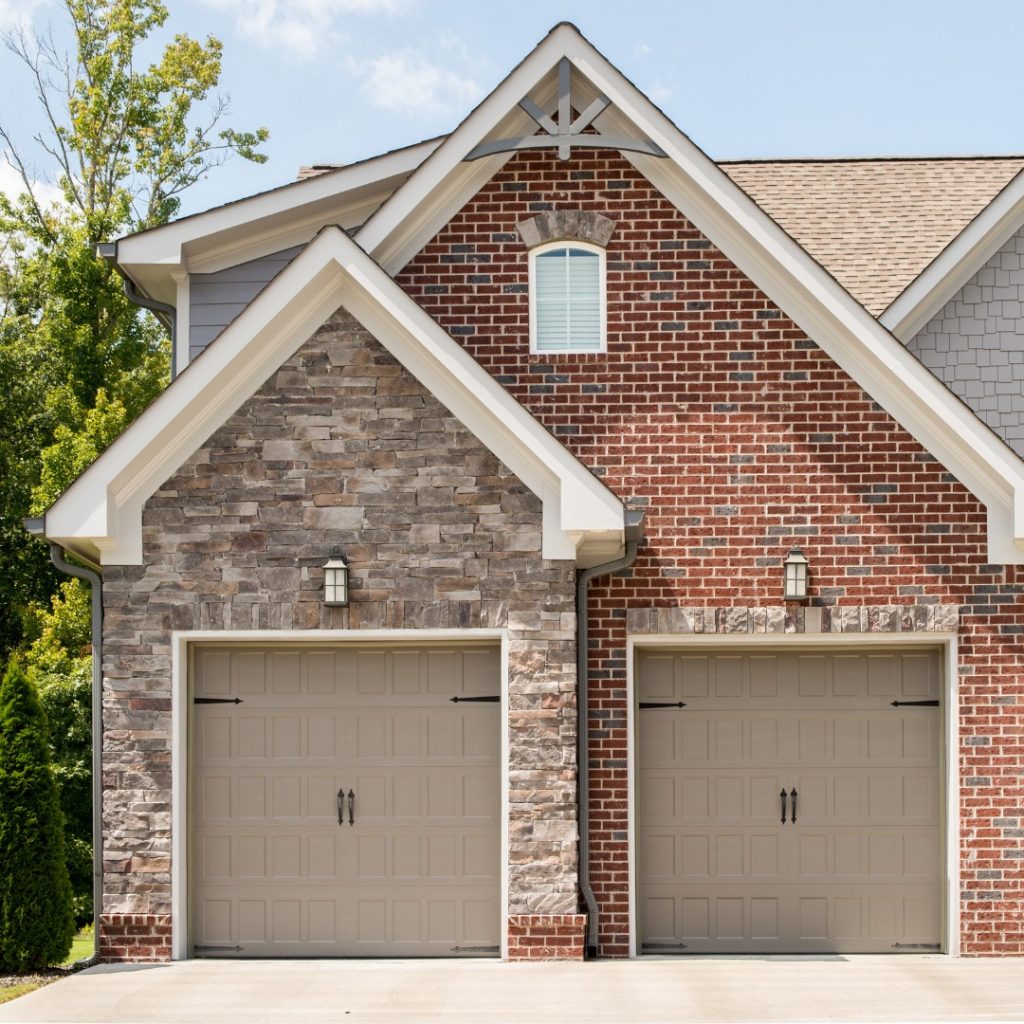 How to Pair Different Stone Sizes with Brick
While brick will be uniform in shape and size, stone veneer offers a tremendous range of stone sizes, found in both uniform and random size varieties. Therefore, the sizes of the stone should be geared towards helping achieve the overall desired feel of the home's exterior. For a traditional brick home, consider using larger chopped, mosaic, or field stone to lend creativity and rustic appeal. For a modern or contemporary brick home, cut stone with sharper stone angles and edges will provide precision and clean lines. The 19th Century Series Stone (below) used in this traditional brick exterior harkens back to stone construction found in colonial architecture. These two materials worked together here to produce a majestic, time-honored look that will never go out of style: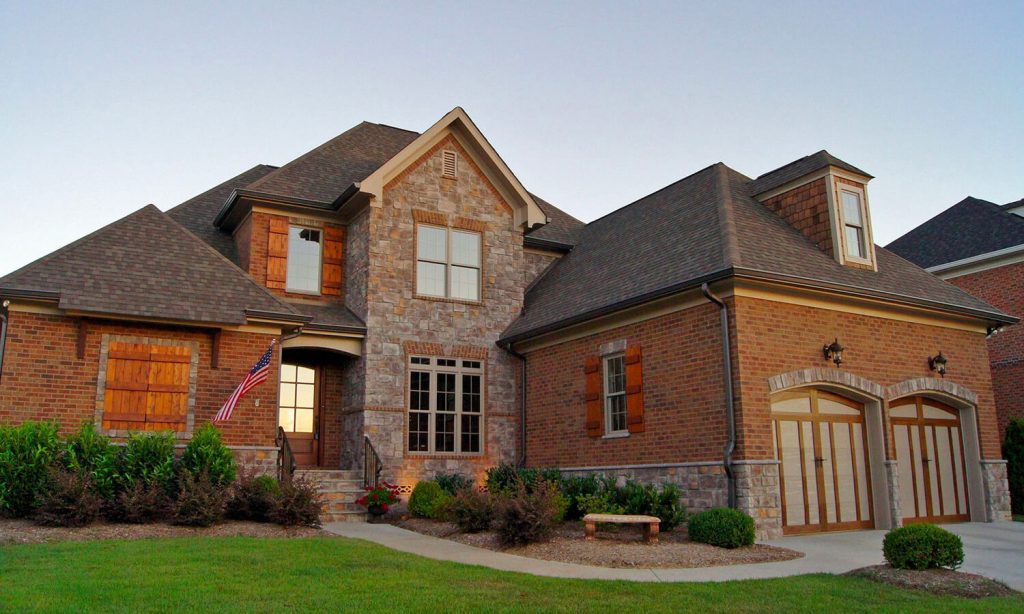 How to Use Stone Accents for Brick Exteriors 
Explore how you can create stone accent design elements that can subtly break up a brick exterior: You can use stone veneer for contrast borders, columns, column bases, stone skirt, steps, gables, and even arched entryways. All of these design features offer perfect opportunities to work in your favorite stone shade and texture! Look for natural stops in the brick pattern and preexisting focal points as these are ideal locations to introduce new stone texture, color, and shapes without overwhelming the finished look. We love how this brick garage uses accent borders crafted with Handcrafted Series Stone in Mossy Creek (below) to add an eye-catching, elevated touch: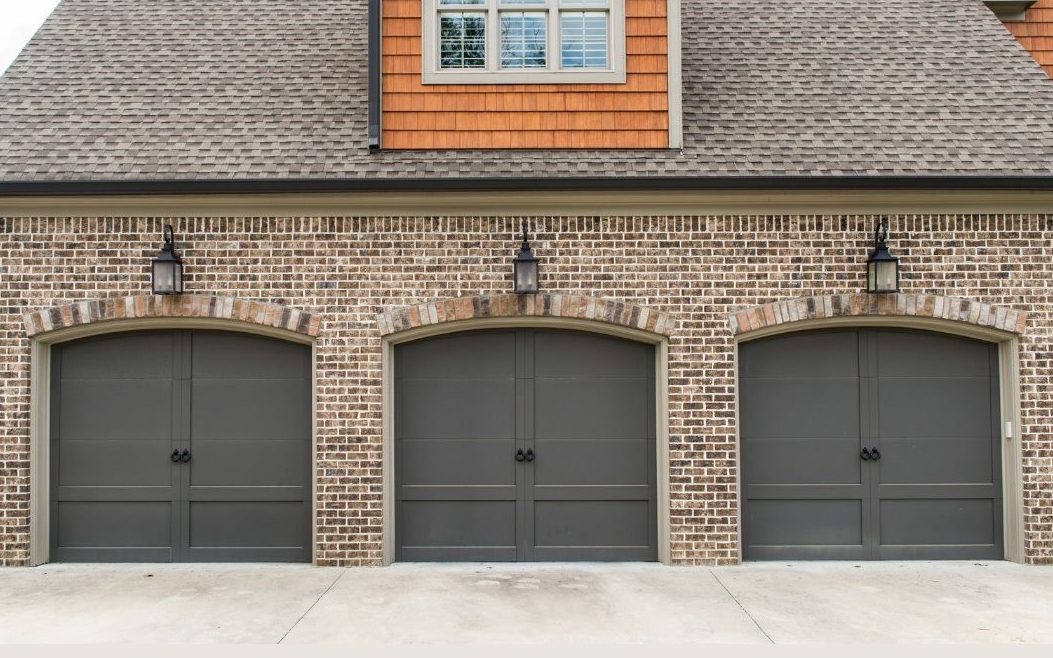 Explore our Horizon Stone Pinterest Boards for more inspiration and dazzling stone veneer and brick pairings. Locate your nearest Horizon Stone distributor and let this timeless material combo transform your property!