Although you may first think of home exteriors, fireplaces, and accent walls when it comes to completing projects with stone veneer, you can easily use Horizon Stone products to enhance the look of your porch, patio, entryway, and more by creating attractive stone posts and columns! In addition to providing valuable structural support, these timeless architectural features lend sophistication and visual interest wherever they are utilized. Whether you are looking to up your curb appeal, add a luxurious touch indoors, or create a relaxing outdoor space, here are a few valuable considerations on how to use stone posts and columns:  
How to Use Stone to Upgrade Your Porch – It's no secret that stone veneer is a perfect match for other organic exterior materials like brick and wood when crafting a charming, inviting estate. To give ordinary wooden porch posts an extra pop, consider designing stone porch columns to elevate your home's primary entrance! In addition to adding presence and greater visual interest, you can use the undertones in your stone veneer choice to pull out other shades within the overall exterior.
We adore the Handcrafted stone in color Hickory (below) used to complete the front porch columns with stone bases in this rustic craftsmen-style home. Not only does the veneer match like a dream with the beautiful wooden post beams, but the rugged symmetry and precise lines of the stone bases connect to the garage and entryway stone for a unified feel that balances the painted elements effortlessly: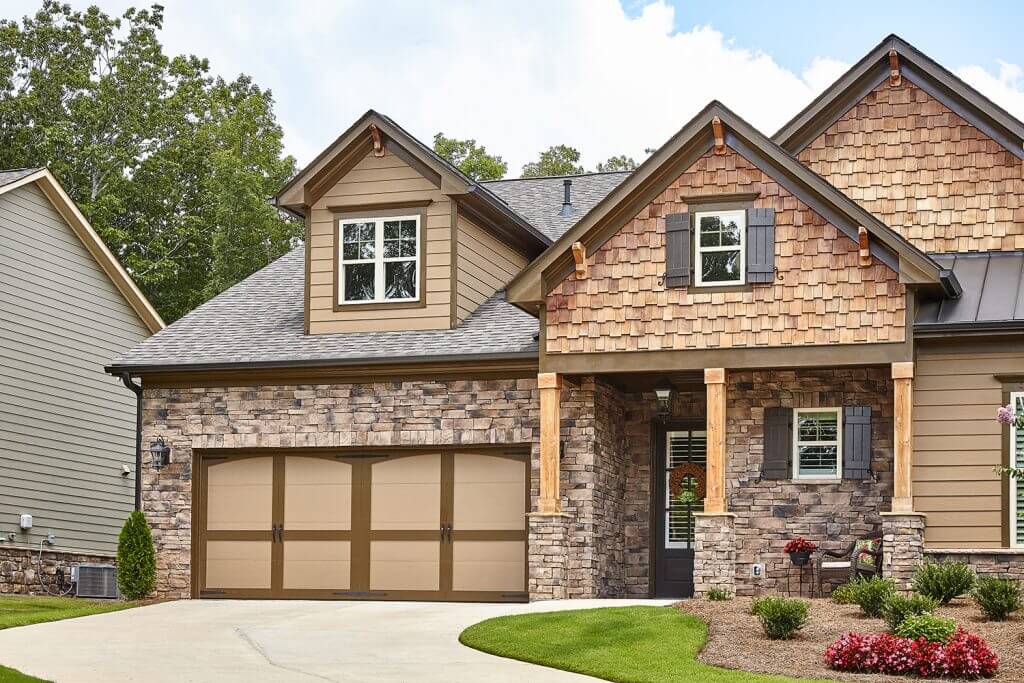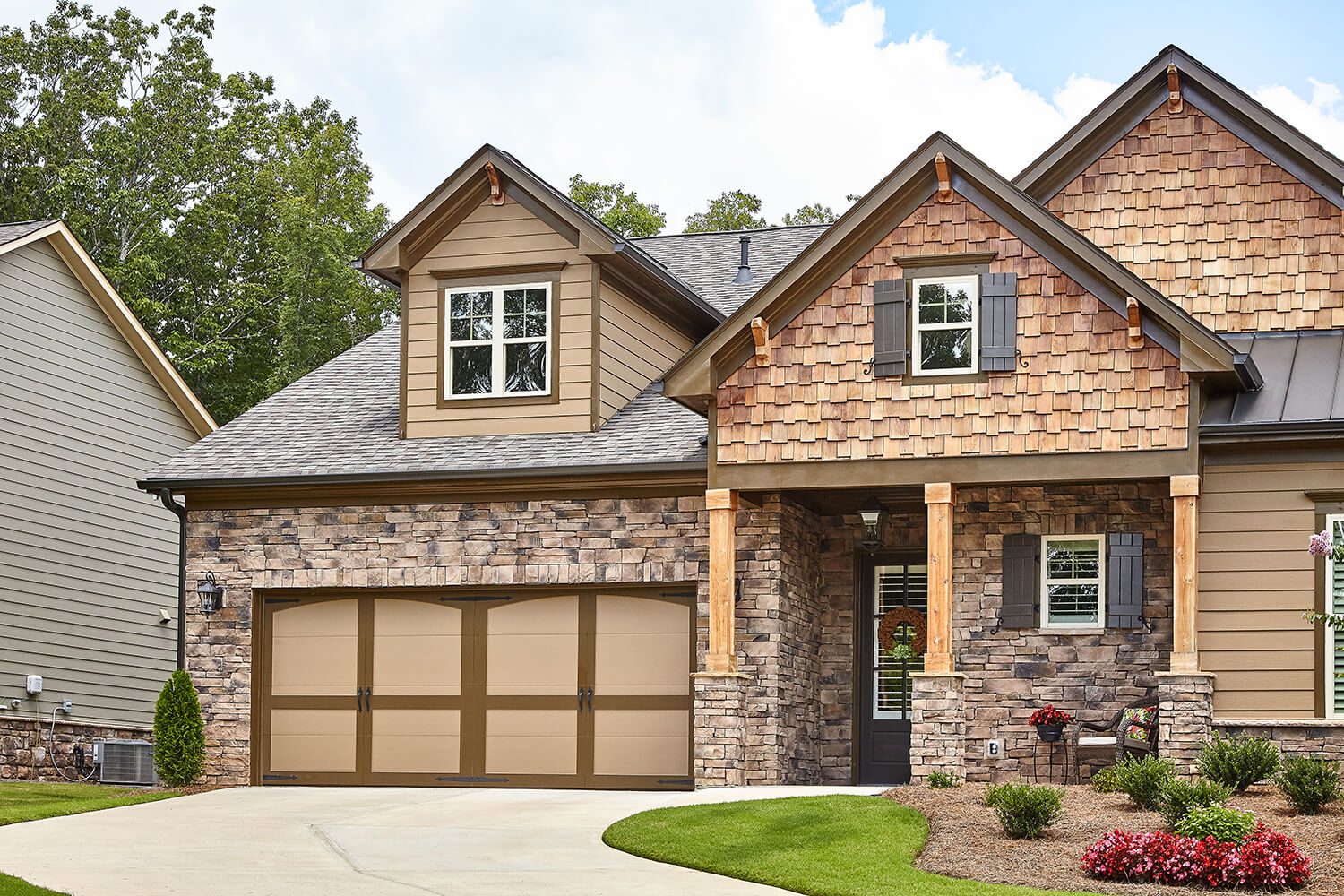 What Are the Different Types of Stone Columns? – As you look to complete your design vision with stone columns, you will quickly realize just how many gorgeous options are available to you! Equally stunning and useful in their respective characteristics, you can craft different stone column types using different types of stone veneer such as:
Stacked Stone – A stacked stone veneer means that the stones are tight and flush, with one on top of the other or dry-stacked. Dry stack stone columns provide the visual of mortarless stone with staggered layers and a rough-cut natural appearance.
Ledgestone – Often used for walls, fireplaces, or borders, Ledgestone veneer provides a visual of rectangular stripes of stone arranged uniformly. With stunning visual texture, using Ledgestone for columns will create eye-catching design focal points.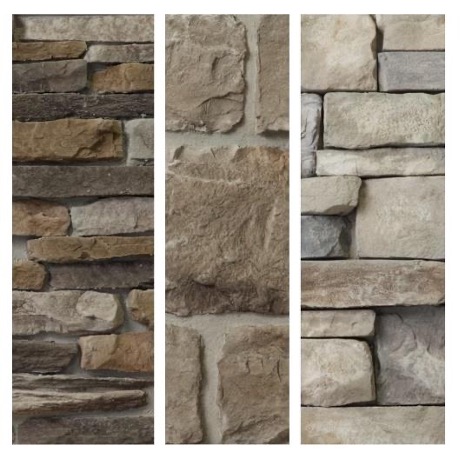 If you are undecided on which style you should use to create your stone columns, order samples from our website and we will ship them straight to your home for confident decision-making!
How to Select the Right Stone for Your Columns – When it comes to designing stone columns and column bases, you can use factors such as stone size, color, and pattern to capture the perfect feel:
Size – The size of the stones you select for your columns will often reflect the desired décor theme you aim to achieve. For traditional and classic design, larger stone sizes can reflect a time-honored architectural feel. For modern and contemporary spaces, the precise lines and clean geometry of thinner, horizontal strips will help complete columns that provide a hip aesthetic.
Color – For color, it's all about the visual impact you look to craft with your columns. For instance, these columns created with Rockface Series Hermitage (right) blend into the interior entranceway and use natural light to provide presence that balances with subtlety.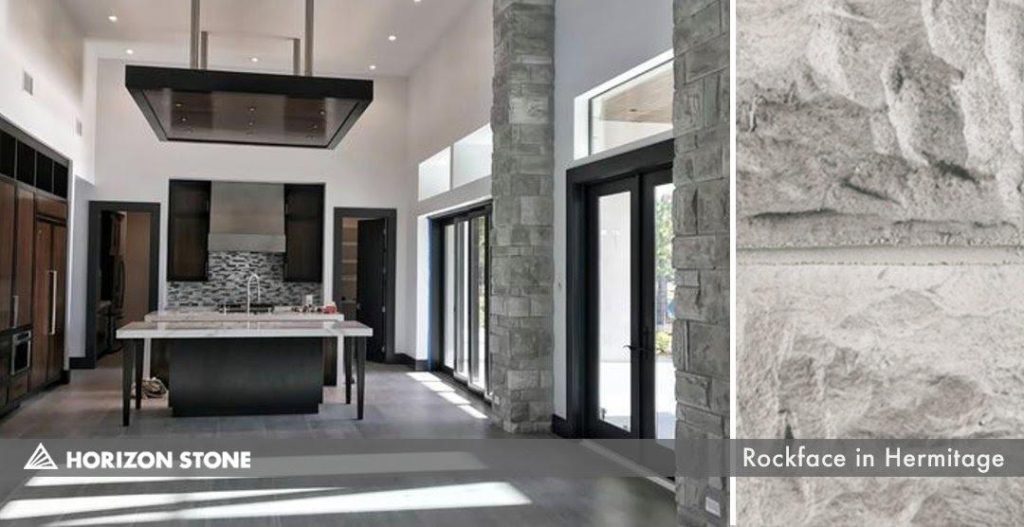 On the other hand, you can choose contrasting or bolder stone colors for columns to stand out more and draw the eye to them! We love the concept of using multi-colored stone veneer for columns that pull out a complementary color in the home's interior or exterior color palette.
Pattern – Different stone veneers patterns can also help you capture the perfect effect from your stone columns. A stone veneer that uses more square and rectangular stones in visible mortar will give a subtle nod to skilled masonry. Ledgestone columns provide an end-cut texture that looks superb within modern spaces. Also, face-cut stone veneer provides exceptional natural beauty that is an ideal fit for craftsman home columns.
These fabulous examples of stone posts and columns are only a few of the excellent ideas that you can pull from our Horizon Stone Pinterest page. Locate your nearest Horizon Stone distributor to get started and order samples of your favorite stone veneer options from our website as needed!