Whether you are looking to capture your favorite timeless look or create a home exterior to express your personality, pairing stone and brick will elevate your property with luxurious, standout appeal. A customized look is easier to achieve than ever before thanks to the wide-ranging looks found in the full line of Horizon Stone Veneer!
Sharing a complementary earthy neutral color palette, as well as engaging shapes, textures, and patterns, designing a home with brick and stone veneer gives you incredible design capability and creativity. For successful results that will quickly become a hit within your neighborhood and with future prospective buyers, here are a few of our favorite tips for mixing and matching brick and stone veneer:
Pairing Brick and Stone Colors
The unmistakable brick and stone textures provide the perfect natural contrast between these two organic materials. Brick tends to be more uniform in shape and layout, whereas the natural look of stone veneer provides a wide range of shapes and sizes. Rather than try to blend their differences and match their respective colors, enhance this contrast by balancing their tones. Match a darker brick with a lighter stone and match a darker stone with lighter-colored or even white brick. Make sure to pair a multicolored brick or stone variety with a solid color to avoid overwhelming the exterior.
To achieve overall cohesion, match the shades of the brick and stone with a unifying undertone or color fleck. Similar to using a paint wheel to match paint colors, examine all the different tones in the primary material that you want to find a match for. The dark gray undertones in both the stone and brick used in this garage provide the perfect common characteristic that pulls the entire gorgeous look together: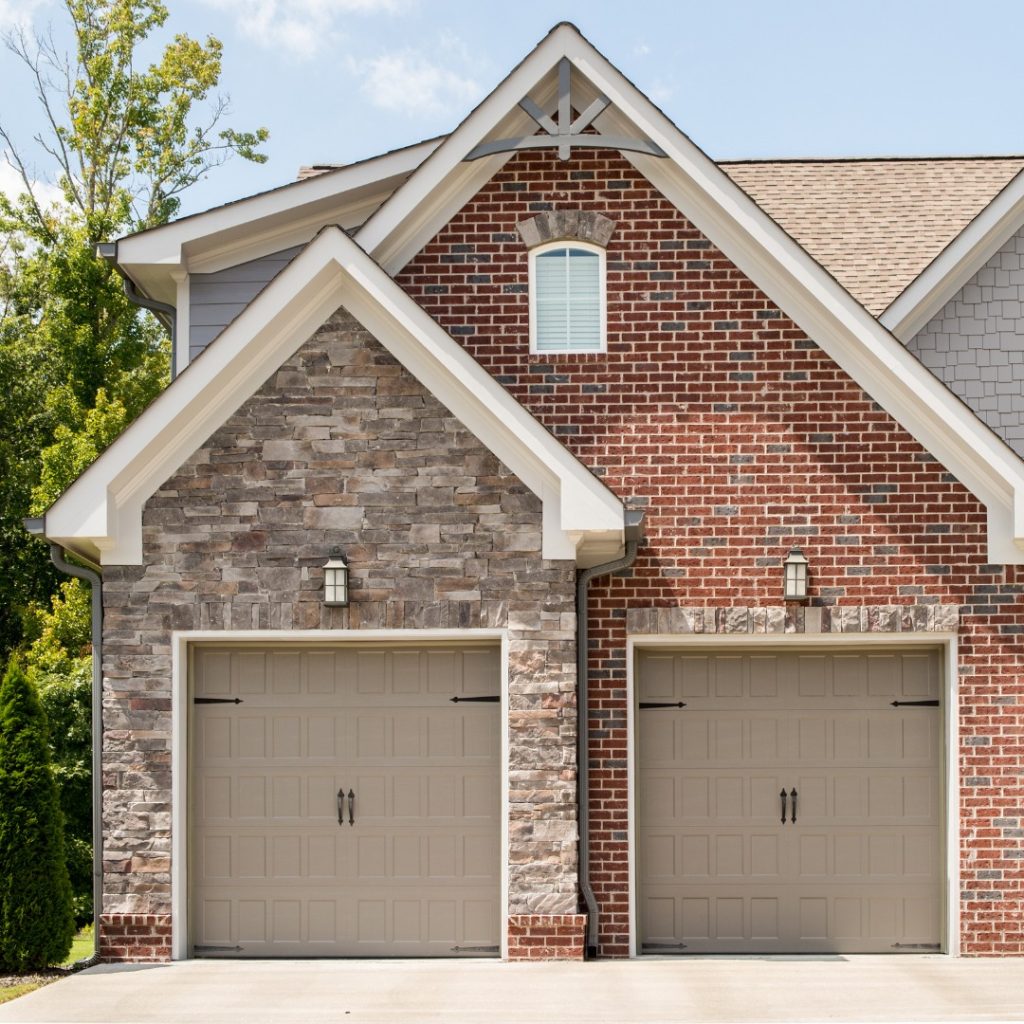 Gathering Brick and Stone Veneer Inspiration
For timeless inspiration when pairing brick and stone, revisiting architectural styles such as Tudor, Craftsman, French country, and Colonial-style homes that often feature this classic combination is an excellent starting point. These different style homes commonly feature brick and stone focal points such as chimneys, porch columns, porch pavers, planters, column bases, and steps, that present easy ways to incorporate your favorite styles. Along with paths, cover gables, arched entryways, and carports to complete your property's exterior, these design elements are often the perfect natural moments to transition between stone and brick: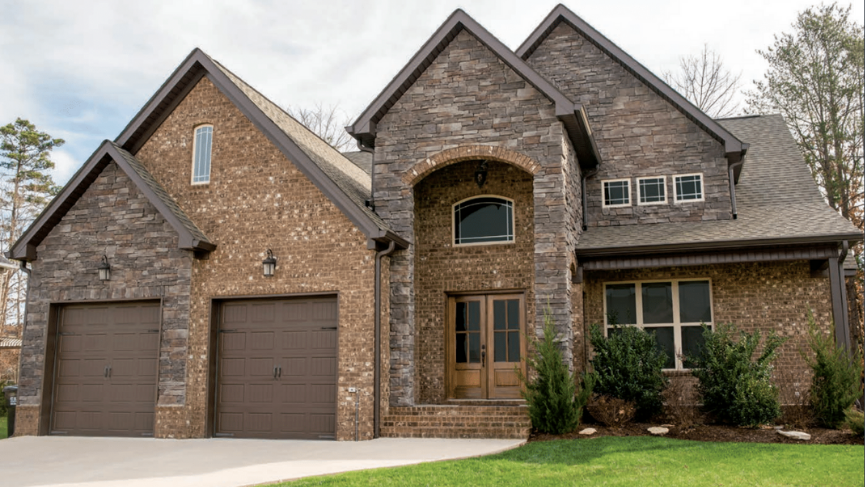 Adding Stone Veneer to a Brick Home
For a home that's made entirely of brick, you will not have as much opportunity to introduce new materials within the masonry. You can first look for areas to add stone veneer easily such as updating column bases or in any non-brick areas in the home exterior such as stone skirt. Since Horizon Stone products are superiorly engineered for quick, efficient installation, consider working with a contractor to easily install stone veneer over brick masonry to create fantastic visual interest. As long as the brick masonry is in good condition with no cracking, bulging, or crumbling, a contractor can install stone veneer for enhanced curb appeal and to refresh the look of your home.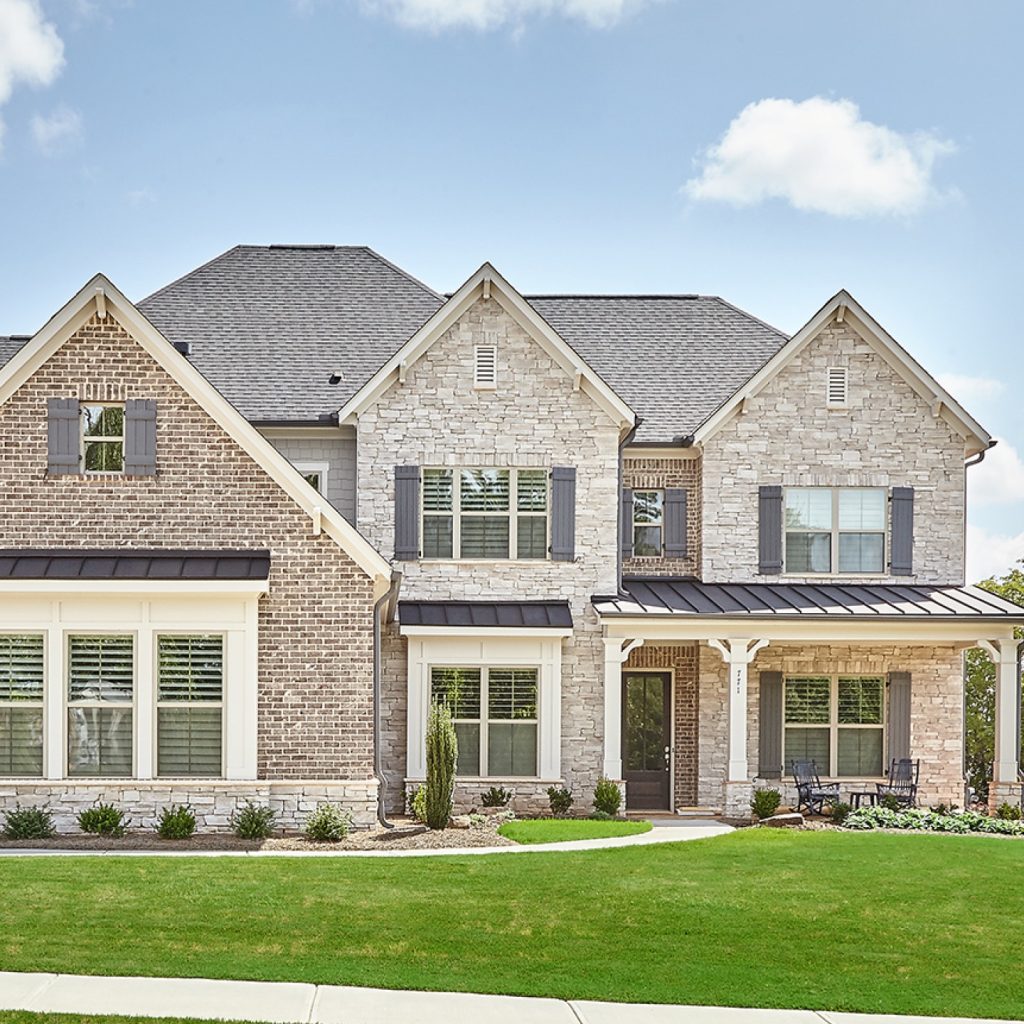 Using Brick and Stone Veneer Samples
Once you have an idea of a stone veneer and brick combo that you are strongly considering for your home, it's time to acquire samples of each material so that you can get the most accurate idea of how the finished results will appear. If you are having new brick masonry created, many contractors are willing to make a masonry sample for a relatively small fee that you can use to gauge the final look. Order your favorite Horizon Stone samples from our website, which will be shipped directly to your house, and you can compare your brick and stone selections in person for complete confidence! Look at your samples in natural light during different times of the day and you will avoid any unexpected visuals when your project is complete.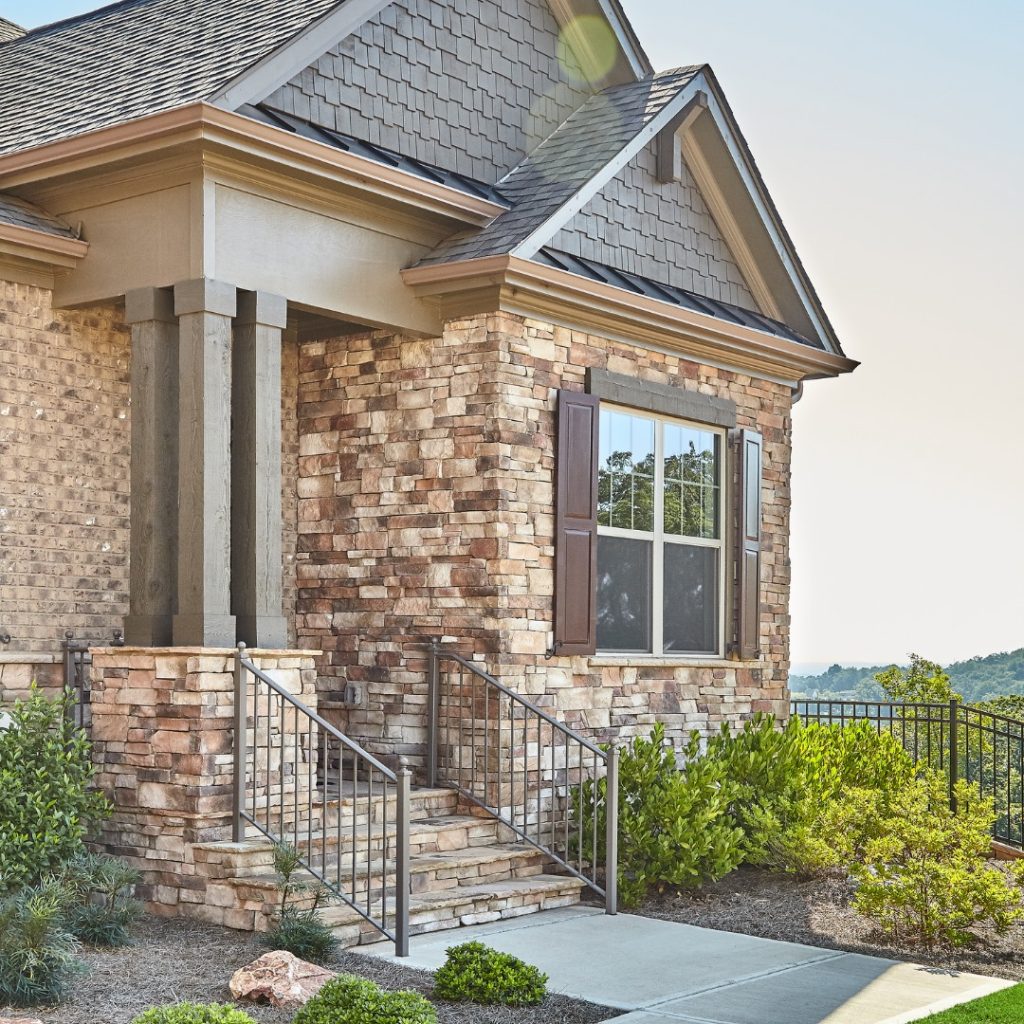 For even more exceptional examples of stone veneer and brick combinations, explore our Horizon Stone Pinterest pages which feature many images that pull these valuable tips together. Locate your nearest Horizon Stone distributor and work with an expert to bring your vision to life!