Homeowners, builders, and interior designers everywhere use easy-to-install Horizon Stone veneer styles to complete gorgeous residential properties and design refreshes with flawless results. However, these same eye-catching options hand-molded from quarried stone and colored by artisans to replicate the beauty of nature, are perfect for enhancing a wide range of businesses as well! From restaurants and banks to hotels and hospitals, here are a few of our favorite ways to use stone veneer for commercial building projects:
Biophilic Designs with Stone
These designs create a feeling of warmth and reassurance for the patrons. With a soothing organic color palette and timeless artisanship on display, stone veneer presents a visual as beautiful as it is familiar. Stone veneer provides a strong connection to nature and biophilic design helps us unwind from our fast-paced daily lives. Many spas, salons, dentists, and doctor's offices turn to stone veneer for the clean, calming look that helps clients and patients feel at ease. We love the warm, soft browns in the 19th Century series stone in color Westchester (below) used for this medical practice: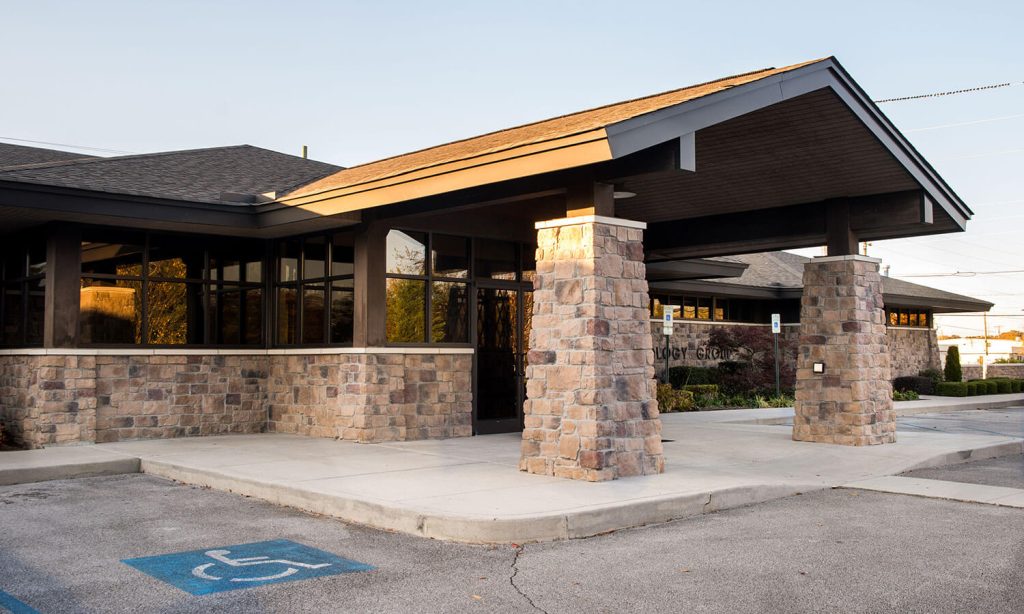 Stone Elevates the Appearance
Whether it's to pick up a pizza or go on a Friday night date night, we all love to take a break from cooking and get food out of the house! Restaurants with stone veneer have a more elevated appearance than eateries created with plain building materials and become more inviting to potential diners. Look at how the Rockface series stone in color Hamilton (left) uplifts the exterior of the Firebirds restaurant, as well as how the Handcrafted series stone in color Smoky Mountain (right) raises the look of a neighborhood Domino's Pizza: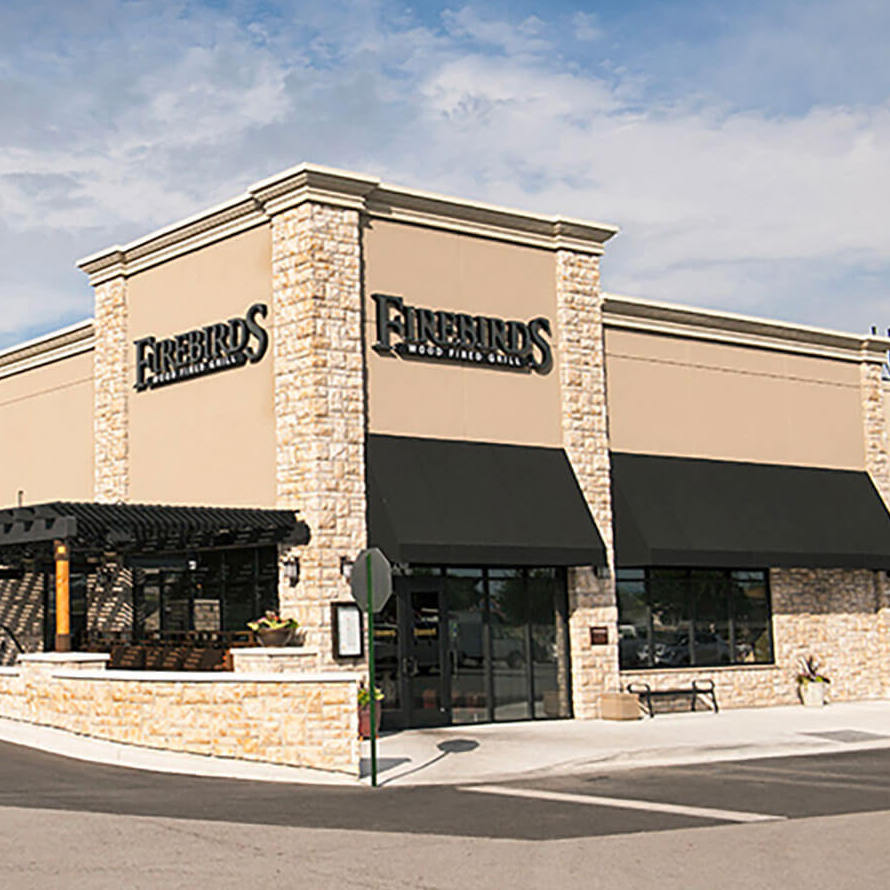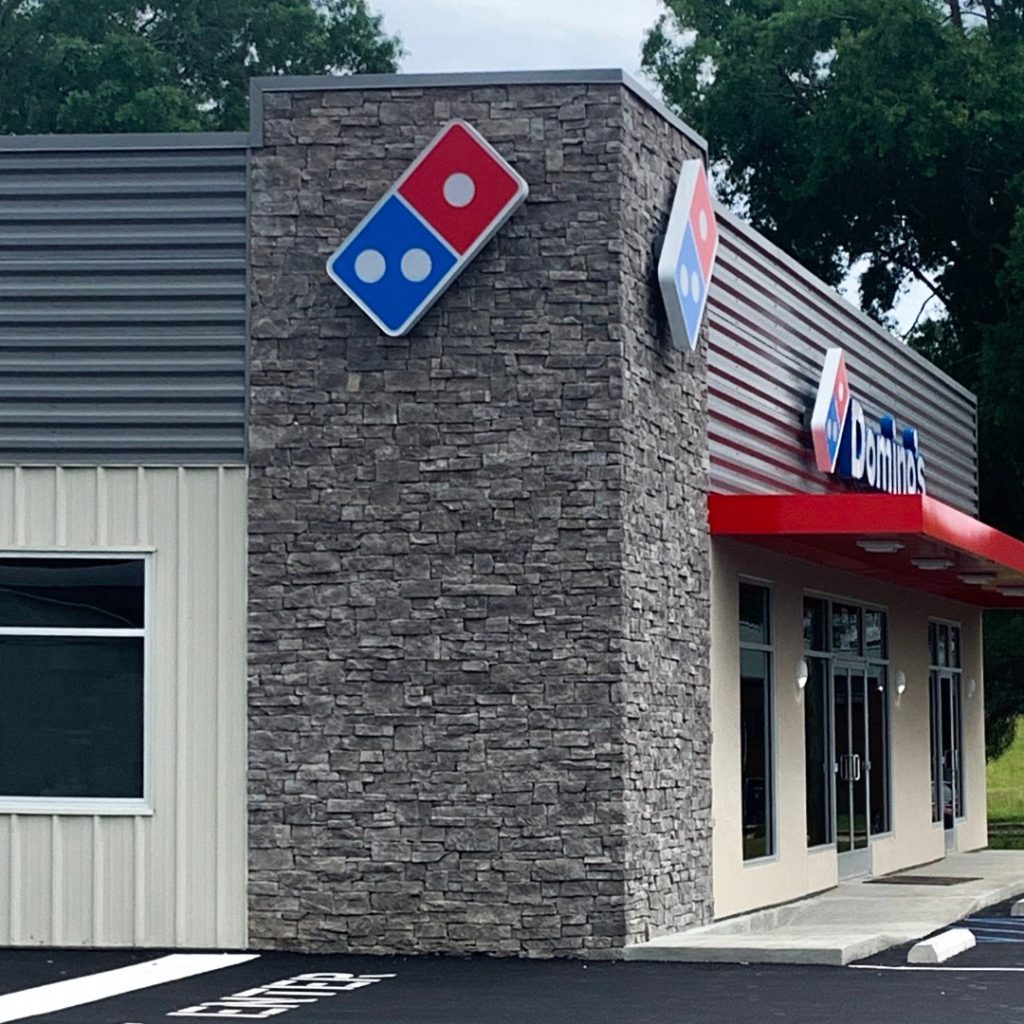 Classic Stone Columns
When it comes to creating immediate impact for guests and customers, striking stone veneer columns help create an entrance or foyer with undeniable presence. As a classic architectural design element throughout history, columns symbolize both strength and tradition to all who enter an establishment. With neutral color, chiseled texture, and engaging shapes and symmetry, using stone columns for commercial buildings such as these QuickFit Stone Series columns in color Santa Fe (left) and Rockface columns in color Hermitage (right) are a seamless fit for modern and contemporary structures: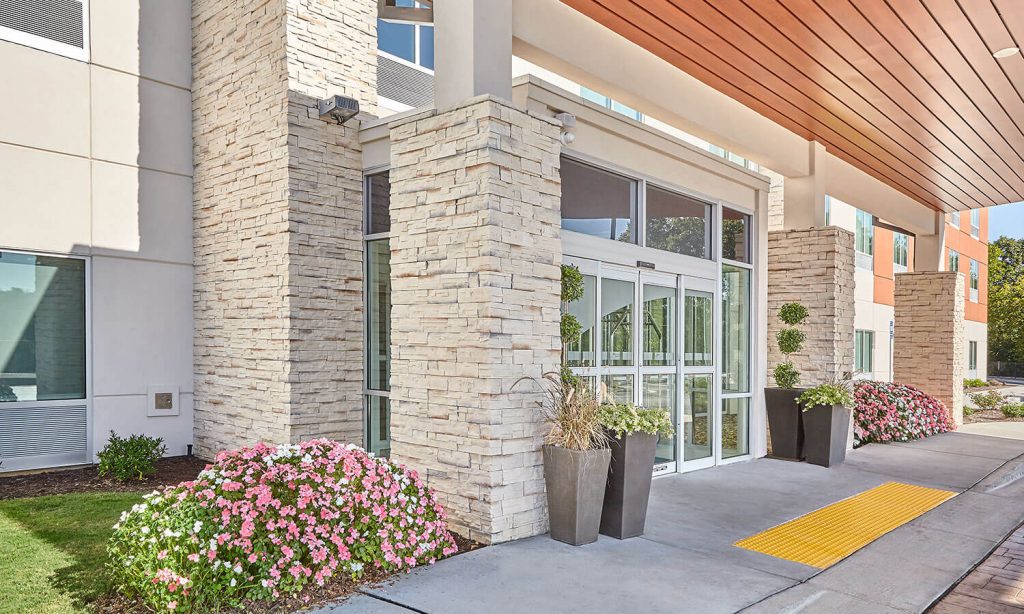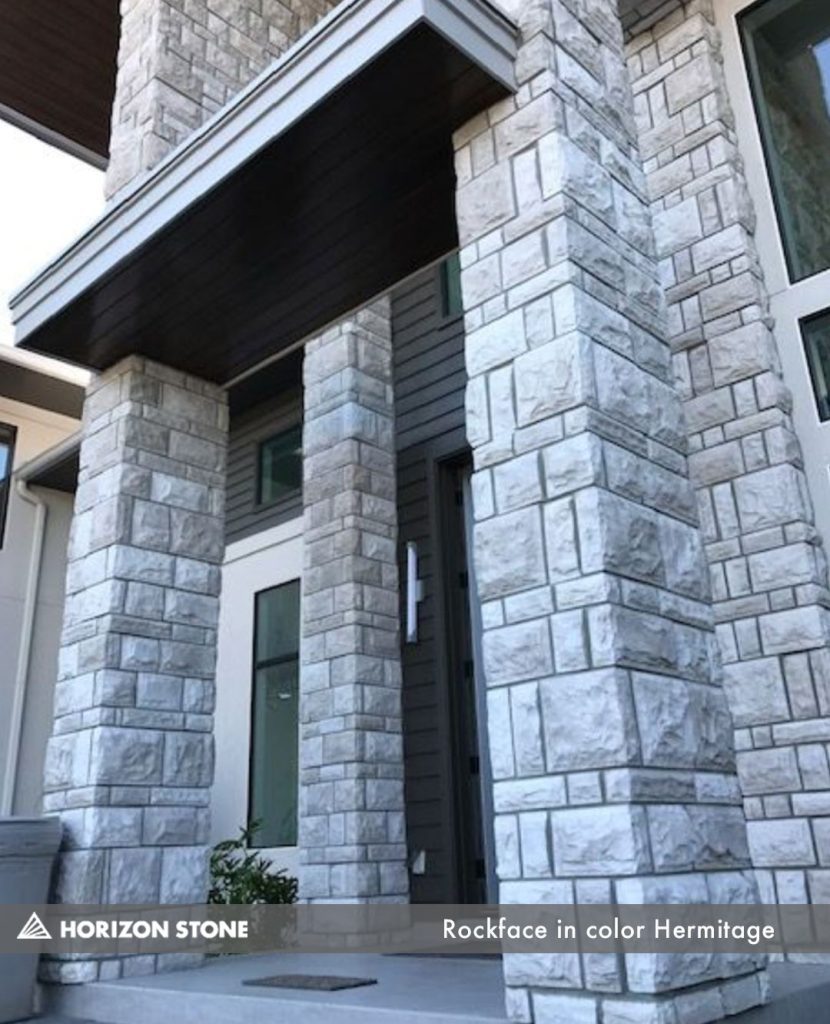 Stone for Pools
For hotels, resorts, motels, complexes, and clubhouses, using stone veneer for a commercial pool setting is the perfect way to craft a relaxing, luxurious atmosphere. Think about it: The visual combination of water and stone is as timeless as a flowing river and instantly creates the feeling of an outdoor oasis. Stunning stone veneer commercial pool features can include stone veneer pool walls, a pool kitchen with stone veneer, or a stone veneer firepit. We adore the mix of Ledgestone and Handcrafted Series Stone in the color Harbor Bluff that gives this stone pool deck a vibe where guests will want to lounge for hours: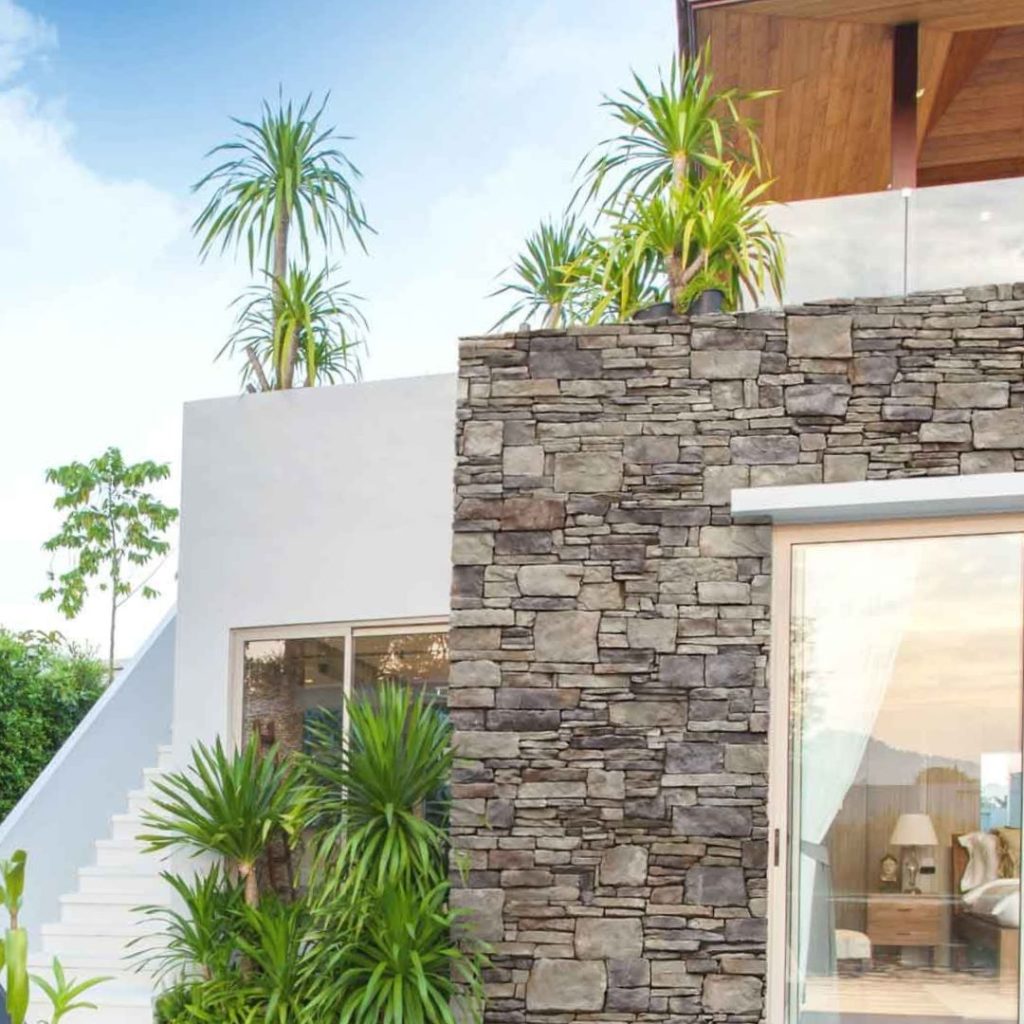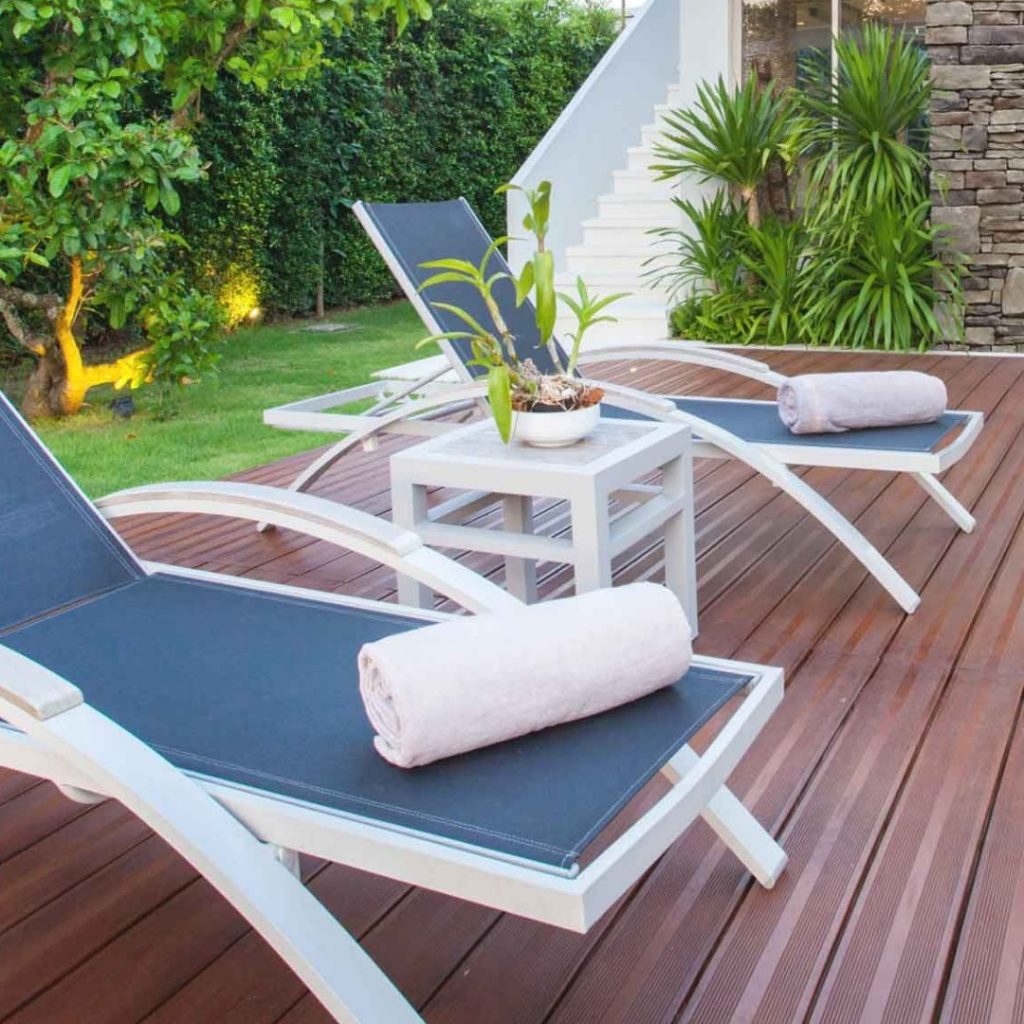 Make sure to explore our Horizon Stone Pinterest boards for even more examples of commercial projects using stone veneer to perfection. Locate a nearby Horizon Stone distributor and begin planning for your business's impressive exterior and interior design!