It's no secret that stone veneer is the perfect value-adding material to help you craft a gorgeous exterior that adds tremendous curb appeal. Whether you're looking to enjoy your home even more with a refresh or get a property ready to list on the market, you can use easy-to-install Horizon Stone veneer options to uplift your stylish rooms throughout the entire home! From inspired kitchens to statement-making design elements in common rooms and bedrooms, here are a few striking ways to incorporate stone in your interiors:
Stone Entryway
For immediate impact as soon as you and your guests enter the home, consider utilizing the look of stone to create a foyer or entryway with presence and upscale appeal.
We love these stunning columns created with Rockface Stone Series Hermitage (below) that use natural light to perfection and enhance the entire entryway without trying too hard. While the chiseled texture is reminiscent of classic stones used in historical architecture, the symmetrical shape is the perfect look for today's contemporary and modern entrances.
Family Room/Living Room Stone Accents
In the rooms where the family will gather daily and guests will often be hosted, a show-stopping stone fireplace is a perfect feature to complete an unforgettable layout. Featuring rugged symmetry and precise lines for an ageless look and feel, this fireplace was created with popular Handcrafted Stone Series Harbor Bluff (below) and is nothing short of breathtaking. Enhance your fireplace with mantel shelves, brackets, and keystones for added character and personal design capability: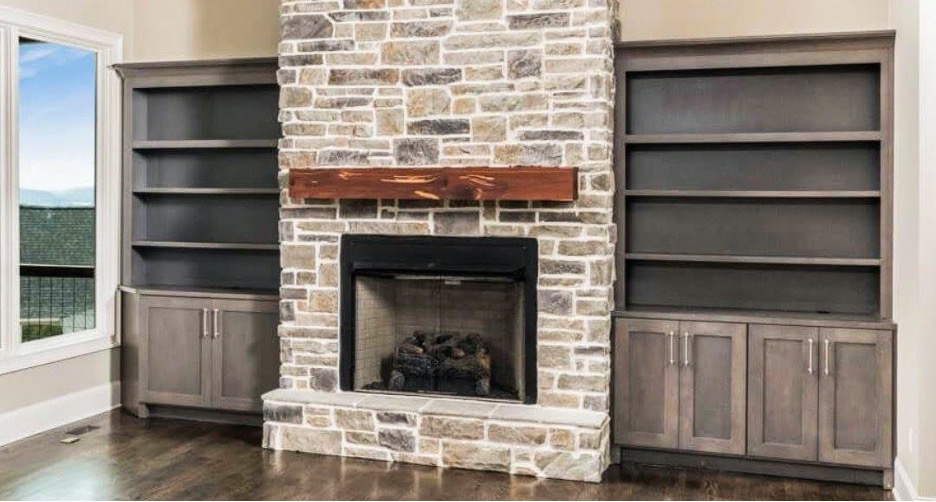 Stone Veneer in Kitchen
When it comes to designing a culinary space that will inspire delicious meals and invite endless morning convos over coffee, you can use stone veneer to create a kitchen backsplash or enhance elements that would otherwise blend in. Look at the way this kitchen island crafted with Olde World Stone Series Pecan (below) uses the unique blend of stone shapes and tones to add color and texture within a modern setting. Instantly, this fashion-forward kitchen becomes a dazzling space worthy of a magazine cover!
Stone Ideas for the Bathroom
To foster a morning and evening routine that will help you to be your best every day, you can use stone veneer as an eye-catching material for a soothing, spa-like bathroom. Creating a dramatic stone accent wall in your bathroom with Ledgestone Stone Series Canyon Ridge (below) that extends to the ceiling will elevate the space with undeniable luxury. Stone veneer helped turn this ordinary bathroom into a relaxing oasis that will alleviate your stress after a long day: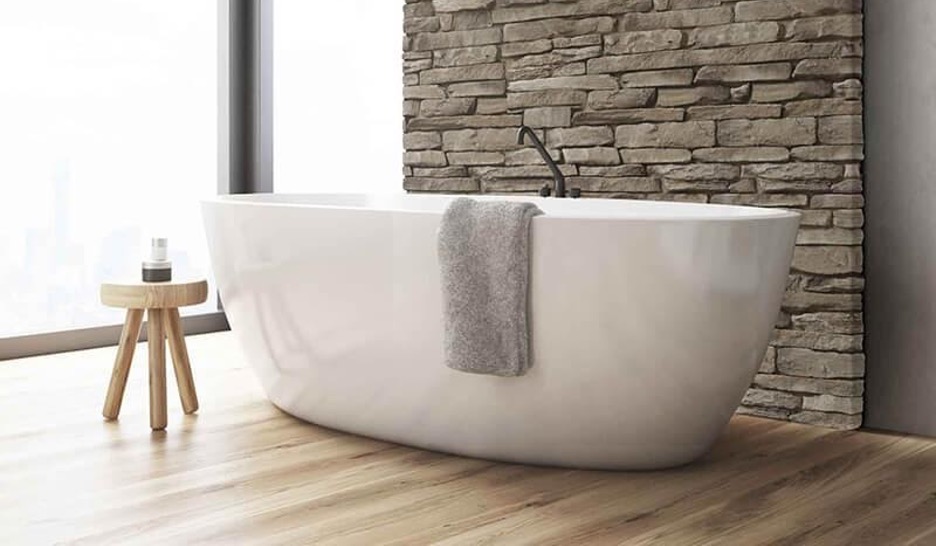 Stone in the Bedroom/Nursery
One of the most popular design trends for 2022 is the movement to make time indoors as reenergizing as possible with increased use of natural materials to foster a calming connection to the outdoors. The neutral tones and organic texture of this Handcrafted Stone Series Mossy Oak (below) installation truly enhances the relaxing vibe of this nursery, just as easily as it would in a master bedroom. Use stone veneer to craft a hotel-like feel in your home that will help you get the best rest possible every night!
Ready to incorporate the beauty of natural stone in your interior? Gather additional inspiration from our Horizon Stone Pinterest boards and locate your nearest Horizon Stone distributor today!